Surviving Job Loss
This website contains some of the best advice for surviving job loss and turning a tragedy into an opportunity of a lifetime! If you have job loss concerns, make sure they don't lead to job loss depression.

Job loss support and job loss services are more than just about resume writing and interviewing skills. They are about assisting you in creating the right mental attitude that will not only allow you to conquer your unfortunate circumstances, but come out smiling on the other side.

Don't Suffer With Job Loss Depression

Losing your job can be the most devastating thing for many people. I should know, because I've been there myself! It causes even the strongest of us to lose self-confidence or possibly be gripped by fear. The deeper you spiral out of control, the harder it becomes to pull yourself out of the negative abyss. Don't start on this downward spiral. There are many people and places you can turn to for help. A problem shared is a problem halved!

What Are Your Job Loss Concerns?

Are you suffering with:

You don't have to suffer alone with job loss depression or your job loss concerns. There are job loss services and job loss support available to you. But remember that it is not just about the hard factors. The soft factors matter just as much, if not more! Now is the time for self-care and making sure that you do not let yourself go.

Job Loss Support

There are many ways that you can boost your self-esteem and turn your life around. My ebook is the ultimate guide to coping with the emotional trauma of job loss. It offers countless life coaching strategies to help you deal with the situation, regain your self-confidence, feel good about yourself and be happy once again. Now you can turn a catastophe into the best thing that has every happened to you!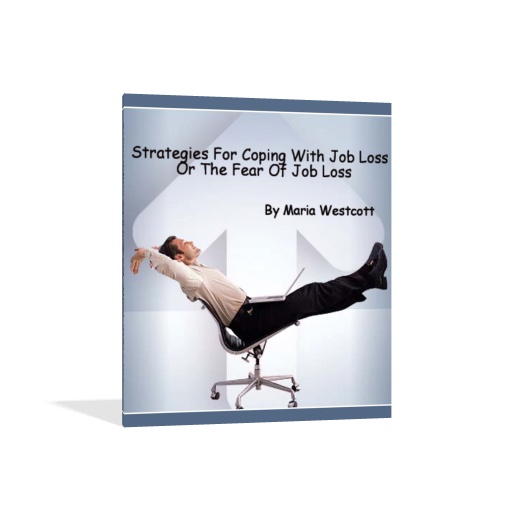 Strategies for Coping With Job Loss Or The Fear Of Job Loss

Job Loss Services
Life Coaching is a great resource to help you turn your life around. How does the successful football team win the match? With the assistance of a coach, of course?

You don't have to go it alone when it comes to surviving job loss! Sometimes just having someone to help you view things from a different angle, keep you on track, make you accountable for the things you said you'd do, etc. is all that it takes to kick-start your life and turn things around.
I can work with you to get results as I specialise in Life Coaching for Redundancy or Job loss. Please visit my Life Coaching page for more information and help with surviving job loss.


Use this search feature to to find what you're looking for:
Home

»
Surviving Job Loss